Debb's Christian Share Page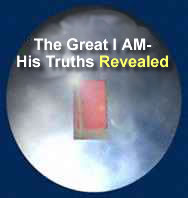 ---
---
The Great I AM- His Truths Revealed
Christian Text Link Directory
ONLINE BOOKS ETC.
---
---
Online Magazines
---
Add your link here! And be the first listing in this Directory. Click on the Link to Us or Exchange Links above.
---

Strombolis ~ Online Magazine description: STROMBOLIS: A Little Bread, A Little Salt. Jesus said: "I am the BREAD of life" "You are the salt of the earth!"
---
---
Copyright © 2001 DEBB'S Christian Share - Page Book- /The Great I AM- His Truth's Revealed. Entire contents of web site and E- Book including written contents Book Title and Graphics
All rights reserved

Alive in Jesus
Welcome to Debb's
message board
NEW DOWNLOAD
Printer Friendly
Version of Book
Visitors
Since 18th May 2001