Debb's Christian Share Page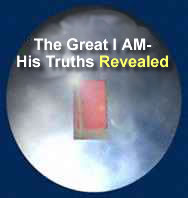 ---
Free Online Book-
The Great I AM- His Truths Revealed
Chapter Four- My Return from Exile Page Twelve.a.
---
---
-A feeling, that I am not a worthwhile person, and that I am living an unworthy life.
-Not knowing why I exist.
-Wanting my husband back, or blaming him for where I am at.
-Wanting someone, anyone.
-Not wanting, to be around people.
-Wanting to know my future.
-Not seeing the pleasure or enjoyment in my children
-Not caring
-Self destructive in every way
-Not wanting to read the Bible
-Looking at trying to know God through other means- i.e. Falsely because his presence is missing.
-Not knowing his will
The Consequences
-Destruction and Damage in every area of my life - Within myself, my children, financially etc.
-Worry, Worry, Worry about everything
-Depression
-Loneliness
-Not caring- pain
-The children get out of control
-Unhappiness
-An emptiness that I try to fill with anything and everything that is BAD for me, but doesn't seem so at the time.
Triggers-
1. My feelings in regards to my husband
2. Financial Worries
What God has taught me-
In a huge lesson after 2 weeks of destruction
"Don't lose faith and trust in God" or he will allow you to walk in the darkness- because he cant reach you, because you wont let him.
God is Righteous, Pure and Holy all the way and again won't bend. God is just
If I pray and don't have faith in God, I know I am far away from him and I am under the influence of Satan through my old habits. I.e. New age practices.
a. I have to repent and turn away from Satan and his ways.
a. Ask God for forgiveness and he will fill the empty hole immediately with his presence and love.
---




---
View My Guestbook
Sign My Guestbook