Debb's Christian Share Page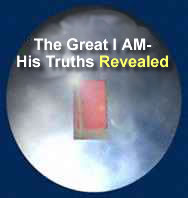 ---




---
Free Online Book-
The Great I AM- His Truths Revealed
Chapter Eight- Jesus Breaks the Chains of Bondage- One Link at a Time Page Twenty Three
---
---
I was praying to God about it and I asked Jesus to set me free, from this bondage, that I was in. As soon as I had spoken the words, I realized that Jesus could not set me any freer, than I already was. He had already given me my freedom. When I realized this, I apologized very quickly.
Later that evening, God finally showed me, without a doubt that none of this vision was from God. It was all a trick from Satan. The Holy Spirit had spoken and confirmed his truths in me. I felt the presence of the Holy Spirit. I had been talking on the phone, to my friend about it and when I had hung up, all of a sudden, the whole thing was erased from my mind. I felt extremely happy and I could feel Gods love in my heart.
I then realized, that my 12year old son Michael, who was supposed to be in bed, was standing behind me. I decided to share with him, the fact that Satan can still try and trick us, even when we are Christians, into believing that he is God. I was going to share a little bit more with him, but found it extremely hard. The love of God was in my heart and that was all I could think about. My son must of felt it too, because he said, "I'm going to bed, but I just want to pray with you to God, because we should pray together." He began with a beautiful prayer and afterwards he went to bed.
The Holy Spirit, revealed his truths to me. God wanted to use me in a big way and that as far as Satan was concerned, if he couldn't have me, he would do the next best thing: If he could keep me in bondage, he would. If he can discredit me and muddle my head, to the truth of Gods word, so I would be of no to use to God in his plan for my life. He would. Through the Holy Spirit, everything became very clear. I realized, that as much as God wants me to write this book, Satan doesn't and that he would try every dirty trick he could use, to prevent what God wants from happening.
I have had so much difficulty in writing this. Satan did not want this forgery to be uncovered. The Holy Spirit, pointed out several things to me, in the vision, I had seen and why none of it was from God.

1. The first is this. In the vision, God, said that it was all right, that I was bound and couldn't see. He would see for me and keep me safe.
(Jesus came to set us free. He paid for our freedom with his life. Jesus heals; he does no keep us in bondage, and see for us. He sets us free, so we can follow him, if we choose.) Galations5: 1 Stand fast therefore in the liberty wherewith Christ hath made us free, and be not entangled again with the yoke of bondage. (KJ. vers.)
2. Jesus does not hide from us. If we ask Jesus to draw near to us, he comes as it says in James 4:7-8 so then, submit yourselves to God. Resist the Devil, and he will run away from you. Come near to God, and he will come near to you.
---




---
View My Guestbook
Sign My Guestbook