Debb's Christian Share Page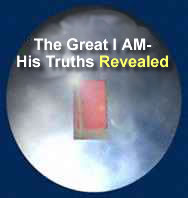 ---




---
Free Online Book-
The Great I AM- His Truths Revealed
Chapter Five- Jesus Calls Me to Follow Him Page Sixteen.a.
---
---
Jesus and so forth. I wasn't really sure what to expect, as I had never been on one before.
I went to Mission Bridge one week it is written in my diary as being 9/5/00. I was informed that we would need the $830.00 for the air fare to Fiji by Friday 12/5/00. I didn't know if I would be going to Fiji in June or Vanuatu in September. I had prayed and I had received a vision that lasted only a second. I saw myself with what seemed like tribal people. I knew that I would have all the money I needed by September without a problem, that I could foresee. I knew that it was impossible for me to come up with the money that was needed by Friday. I knew I would be getting $800.00 the following week, but I had to pay $120.00 for the training and $145.00 for my passport and besides next week was too late. I ended up telling them that I didn't think I would be going to Fiji after all and that it must be Vanuatu. As the meeting went on my decision just didn't sit right. Afterwards, the person who runs the Mission Bridge asked me whether the decision to go to Vanuatu instead of Fiji was based on the fact that I didn't have the money or on God. I told him that I knew I was going on one of them, however God never gave me a clear answer as to which one and that if I went to Fiji it would be a miracle from God, as I could see no possible way except a miracle. So he said okay, that's easy we can pray about that.
Driving home a thought came to me, but I didn't want to do it. Back when I first became a Christian and my friends helped us. I had had some urgent debts and she told me, that she had friends who might lend me the money and that I could pay them back. It took me 6 months to pay them back, but that was okay with them. It was these people that God wanted me to ask for a loan again, I knew that I could pay them pack as soon as I got back from Fiji, but I didn't even know these people. It took me an hour before I finally rang my friend. I told her what I felt God wanted me to do. I stressed that she didn't have to ask, if she didn't want and that if she didn't then that was okay, because then I would know the right answer. She said she would love to. I was so nervous. I told her not to pressure and she said, she didn't want to manipulate in any way and that she too, wanted this to be God's decision. She said that she would put it to them tonight and would leave it with them for a couple of days and that she would tell them, that they were not to give her an answer straight away, but to pray about it. She told them it was completely up to them and there was no pressure because there was another option that I could take later in the year, to Vanuatu.
On Friday morning I picked up the money from my friend for the air fare -I was going to Fiji. What an amazing God!
Here I am back from Fiji. It was an amazing time. Nothing like I could ever have imagined. I struggled with a lot of things. I never went on school camps or anything when I was young, so I was not used to communal type living. I lost my personal relationship with God because I had no privacy and no quiet time to myself. I struggled, but
---




---
View My Guestbook
Sign My Guestbook
Copyright © 2001 DEBB'S Christian Share - Page Book- /The Great I AM- His Truth's Revealed. Entire contents of web site and E- Book including written contents Book Title and Graphics
All rights reserved

Alive in Jesus
Welcome to Debb's
message board
NEW DOWNLOAD
Printer Friendly
Version of Book
Visitors
Since 18th May 2001