Debb's Christian Share Page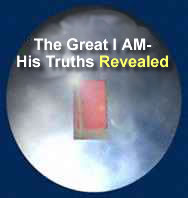 ---




---
Free Online Book-
The Great I AM- His Truths Revealed
Chapter Five- Jesus Calls Me to Follow Him Page Sixteen
---
---
she is schizophrenic, but she's lucky because she doesn't hear them all the time. Otherwise, she would have killed herself long ago.
I asked her if she wanted to do an exercise with me. She said "yes". I asked her to write down on a sheet of paper, everything that was going through her mind. There was a piano there, so after a while I began to play 'Amazing Grace'. She then told me it was her favorite song. When I finished playing I asked her whether there was a difference, in what she was writing before I started playing and afterwards. She showed me the paper and beforehand the thoughts going through her mind, was of suicide and other terrible things. When I started playing, it turned to God, beautiful things in God.
I asked her if I could pray for her and she said, "yes". I stood behind her, placed my hands on her, and started praying. I asked Jesus to just poor his love into her and to give her a beautiful peace. I prayed that she would know how much Jesus loves her. I then asked her to read what she had written and she said that she knew the first part was a lie and that she wasn't afraid anymore and that none of it applied. I told her to rip it up and throw it in the bin. She did and then she read the affirmation's she had written from God and said she would keep hold of them.
Then the phone rang and when she had finished, I could tell she had lost her peace, so I asked her what she was thinking? She told me that the voices had come back. I told her to write it down and then I prayed for her again. When she felt God's love and peace, again I asked her to read it and see if it still applied and she said "no". Shortly after I had to go and pick the children up from school, so I left her in Gods peace.
I thanked God all the way home, because everything I did came from him. I had never really prayed for someone before this.
Two nights later, I had the most amazing time with God. He taught me so much. I have already told you God had said, "Debbie, I want to show you what I can do, the way I work", well at the time I thought he had meant in helping the woman and her son. Tonight I learned that he didn't just mean in their lives, he meant literally, "Debbie I'll show you what I can do, the way I work (In all things)".
Her son ended up staying with me for just over 2 weeks. It was perfect timing because that gave me a week to spend with just, my own children before I went on my first missions trip.
I had been attending Mission Bridge training, every Sunday after noon for the past several weeks, to prepare us to go on a two weeks mission trip to Fiji. Each year for I think it is the past eight years, God took people from our church over there to work in, with some of the churches. We also learnt some new action songs to teach, so that they could be performed, as away of spreading the great news about
---




---
View My Guestbook
Sign My Guestbook