Debb's Christian Share Page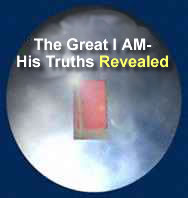 ---
Free Online Book-
The Great I AM- His Truths Revealed
Chapter Four- My Return from Exile Page Eight
---
---
Rom 8:31 What shall we then say to these things? If God be for us, who can be against us? (kjv)
I came across this passage in the Bible a few days later. At this point in time, the Bible didn't really mean much to me and over the next few weeks my friend came to visit, bringing me pamphlets and books to read. Most of them were by Max Lucado and I could easily understand and relate to what he was saying about God. In fact, my friend just couldn't bring me enough. As the days went by, God really picked me up. I still had a lot of the physical problems. I was financially in great despair. My marriage broken with the knowledge that my husband could apply for a divorce at any time. I was still heart broken, but the fact that this Great God was now in my life and was for me, as the above passage states. It made everything easier to bare.
During this time I worked as a Recoveries Officer, a nicer term for a Debt Collector, with a finance company. I had been doing this job for 10 years on and off and I liked it. I liked the rush it gave and it paid better than anything else I was able to get, without academic qualifications. As the weeks went by, God began changing me on the inside. I would go to work and try to collect but couldn't because I felt sorry for the people and their circumstances. I knew I couldn't get the results expected of me any more. I thought of my financial situation and knew I needed the job, but in the end, I gave it up. No longer, could I go against God or myself. This job was not a part of God's plan for my life and I knew I would not work again, until God showed me the work that was right for me.
I didn't know what I was going to do. I was behind in everything. I prayed "God you know my situation. I have given up my job. I can't even keep my arrangements with my creditors now." My friend kept saying, "Have faith in God, he has a plan for your life and he loves you so much." I tried and hung on so desperately. It didn't take long for help to come.
Matt 6:4 Take heed that ye do not your alms (another meaning is 'acts of righteousness') before men, to be seen of them: otherwise ye have no reward of your Father which is in heaven. Therefore when thou doest alms, do not sound a trumpet before thee, as the hypocrites do in the synagogue and in the streets, that they may have glory of men. Verily I say unto you, they have their reward. But when thou doest alms, let not thy left hand know what thy right hand doeth: That thine alms may be in secret: and thy Father which seeth in secret himself shall reward thee openly. (kjv)
The people God brought in to help me hold this passage close to their hearts. So because of this I cannot go into detail of everything they did for me, or even tell you who they are. Instead, I want to show what this type of giving has taught me and of how much it has meant to me.
---




---
View My Guestbook
Sign My Guestbook