Debb's Christian Share Page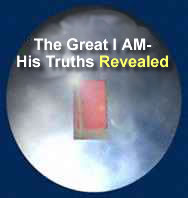 ---
Free Online Book-
The Great I AM- His Truths Revealed
Chapter Three- The Forgery Exposed-the Truth Revealed Page Seven.a.
---
---
I went to the clairvoyant and when I arrived, she told me things that were true, then she said, "You came here with two questions. What are they?" By then, I was too embarrassed to say anything, because I didn't know what clairvoyants believed in either, so I told her I had forgotten. She said, "Well the answer to both is 'yes'." She nearly blew me away, my reaction made her realize that I knew what the questions were, so she asked me and I told her, and that was the beginning of a six- year journey, down the path of the New Age Philosophy. A journey, that would eventually lead me to my downfall, on the one hand, but which then, led me to the only true God, who is found only, through Jesus, on the other.
When I first became a Christian, I asked my friend one day, how I was ever going to know the difference between God, and who I thought was God? She told me to take it to God and he would show me. So I took it to God and said, "God how am I ever going to know the difference between you and the forgery of Satan that I believed in, when I was involved in the New Age? I really believed that it was you. How am I ever going to know the difference?" Then he showed me the first of may differences, he has shown me, between the real thing in Him and the forgery. I can tell you now, as you will see for yourself in the pages of this book. The forgery just doesn't compare.
He poured his love on me that night. It poured down and the difference was this- God's love poured down and said, "Debbie, I love YOU unconditionally. I died for you and rose again on the 3rd day, to bring you life." He then showed me every prayer that I had prayed as a child. I didn't even remember most of them. He told me he was there and that he had heard them all. He stored all my precious tears and that nothing, went un- noticed. He saw it all. He said, "I love you because I choose to." Psal 56:8 You've kept track of my every toss and turn through the sleepless nights, Each tear entered in your ledger, each ache written in your book.(the mess)
This, was the most beautiful love, I had ever known. This love, brought me to tears, because it was for me. The other love I had felt, was just there. It didn't say, "Debbie I love you." In- fact, it didn't love anyone. It was just hanging there. The difference was so great- nothing compares to the love of the one true God, who created us in his image and loved us first. He chose to come down from his heavenly place in human form as Jesus, who is the Son of God, and is God, to die for us, so that he could bring us back to himself, by overcoming the world. This is why I relate the earlier verse John 16:32-33 to both Christians and non- Christian's alike.
---




---
View My Guestbook
Sign My Guestbook
Copyright © 2001 DEBB'S Christian Share - Page Book- /The Great I AM- His Truth's Revealed. Entire contents of web site and E- Book including written contents Book Title and Graphics
All rights reserved

Alive in Jesus
Welcome to Debb's
message board
NEW DOWNLOAD
Printer Friendly
Version of Book
Visitors
Since 18th May 2001