Debb's Christian Share Page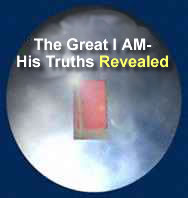 ---




---
Free Online Book-
The Great I AM- His Truths Revealed
Chapter Nine- Foundations Broken to be Built Anew Page Twenty Six
---
---
Its been three weeks or more and no sign of depression. Its been an amazing time, because believe me, things have not been smooth sailing. The rougher it has seemed to get, the closer I have come to God. This is so unusual for me.
The two younger, of my three sons have behaved terribly all week. I moved them into the bungalow, out in the back yard. This used to be my eldest son's room, but he moved out a few months ago and has enlisted in the Army. I decided, to give us a spare room inside as an office, for myself and for all the things that just don't seem to fit any where, but clutter up our small home.
Since the move, my 12year old son has begun trying to act like a 16year old and my 10year old son, is trying to compete and the consequences of it all, is fighting between the two, continual fighting. I went out to their room and they were arguing, they saw me and turned to me, both yelling their complaints about each other. Michael, my twelve-year-old was moving out. He said, he would sleep on the grass, in the back yard if he had to. He had his bags packed and ready to go.
This type of behavior, had been going on all week. I was silently praying to God, because, I just didn't know what to do about it, I'd tried it all. In the end, I did the only thing I could; I grabbed the two of them, I told them to hold hands and I prayed with them. I let them know, that I did not know what to do about it and that we were coming before God, for his help.
After about 15mins, of all of us praying, I noticed the boys had both calmed down, so we ended our prayers and I stayed in their room with them, whilst they cleaned it.
Everything was well again, but it was short lived. All day they just kept fighting with each other and the girls. Night time came and thankfully, so did their bedtime. I couldn't wait to go to bed. I needed a friend in Jesus tonight.
I sat there in bed, pouring it all out to him. At the end of it, I felt his peace. I kept praying and talking to him. The more I felt his presence, the more I began to realize, what really mattered and what didn't. I began to feel repentance, for my own behavior. Standing before the Son of God, feeling his Love, Strength, Righteousness, Authority and everything else, can be so incredible. I looked at myself and just thought, "what am I doing?" Jesus didn't even need to speak, I just knew. Jesus is the way, the truth and the life. Follow him and more
---




---
View My Guestbook
Sign My Guestbook