Debb's Christian Share Page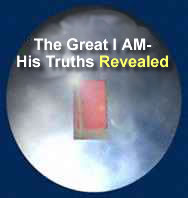 ---




---
Free Online Book-
The Great I AM- His Truths Revealed
Chapter One- Take the ME out of the I Page One
---
---
Now I can finally say "God is within me." I can finally say, "God is in all things" and "In God all things are possible" and believe it.
Now I can really feel safe and walk tall, knowing that God is walking with me.
I can be free from my fears, knowing that this Great and Awesome God is looking after me, is for me and will be with me for all eternity. I never need to be afraid again, as long as I keep my focus on God, not on myself and I have received all of this, thanks to the grace of God through our Lord Jesus Christ.
I became a Christian in January 1999 and I didn't realize until last night just what a very small and wrong perception I had of God. I had everything twisted. Gen:1.26 tells us that we are created in Gods image. Somehow I took "Jesus the man" as being Gods image and so some-how, twisted that into thinking 'God was made in my image'
All this time I had been praying to a God in my image. Through Gods Holy Spirit and the help of my most trusted friend, God was finally able to reveal the truth to me.
I had been struggling with a cycle I had formed in my life, a cycle of habits. I knew them so well that I even knew what my next step would be and I didn't want the cycle to continue anymore, but didn't know how to break it.
A couple of months ago, Jesus had shown me what it felt like to be free in him. I had never felt such a freedom before and this feeling of freedom, lasted the whole night. However, when I awoke the next day, it was gone. Over the past few weeks I have felt this new person inside me, but I just didn't know how to let this new me out. For the short periods of time that I had managed to let this new me out, it felt so alien that I couldn't live with it for longer than one or two days.
I asked a friend if she had any idea on how I could let this new me out. She said "Debbie, the only thing I can tell you is that when I have a problem, that I just can't find the answer to, I bring it before God and leave it with him. You have to take the focus of you and place it on God. The only time you really need to come to God with the focus on you, is when you come to Jesus in repentance." She was having a Lot of trouble trying to find the words to describe what she meant, then I felt the presence of the Holy Spirit.
---




---
View My Guestbook
Sign My Guestbook