Debb's Christian Share Page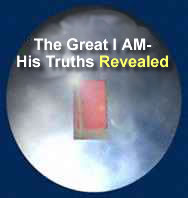 ---




---
Free Online Book-
The Great I AM- His Truths Revealed
Chapter One- Take the ME out of the I Page Two
---
---
He showed me what my friend was trying to say and so I described it for her and told her that I knew what she meant. All this time in coming to God, whether it is in worship or prayer, I have not focused on who God is. It's like I say, "I love you God." I had to get the "Me out of the I" and focus on the "You God." It has always been my need, my want, or my love for him that I have focused on. I told my friend that I had to go and write all this down before I forgot it.
I wrote it down and went to bed. I tried this new focus. First, I said, "I love YOU GOD." Then I said again, "I love YOU GOD." Then I skipped the "I love" altogether and just said "You God," "You God."
I was lying on my bed staring at the ceiling whilst I was saying this and, for the first time in my life, I saw who I'd been praying to all this time. I was no longer staring at the ceiling and it felt as if my eyes were shining brighter and brighter. I didn't see with my eyes, even though they felt like they were shining bright. In some ways, I could see the whole of creation within God and so much more all magnified. God is all knowing, all powerful, all glory and all wisdom. He is awesome! God is huge, bigger than I could ever have imagined. Lying there, staring at God, all I could think of was, "How can I ever be afraid again, when I know who is looking after me?" I was so amazed and I am still amazed. I can't get over how big he is.
My previous picture of God was so wrong, so out of proportion, just nothing in comparison to this awesome God before me now. "Take the cloak off the man and that is what you see." Jesus said in Matt. 11:27 "All things are delivered unto me of my Father: and no man knoweth the Son, but the Father; neither knoweth any man the Father, save the Son, and he to whomsoever the Son will reveal him."(KJV)
God has revealed himself to me through Jesus. What I saw was so huge that I can't even fathom it, and yet I know that I did not see all of God. He has only revealed as much as my mind can take. Jesus is the only man who has seen the full extent of the completeness of God. I do not want to attempt to explain the Trinity of God, because at this point in time, I don't have enough understanding of it. All I can say is, "How great each separate identity of the One God must be."
How absolutely, magnificant our planet must have looked when God created it. Imagine not one trace of SIN on the face of the whole earth. How vibrant and alive with only God's touch on everything! Everything pure shows God's Great character. A universe so massive, that we can never begin to comprehend it.
Great Mountain ranges, with peeks so high they would make you feel less than a speck of dust in comparison. The untouchable skies above, so clean and clear. The valleys below with streams of life giving, sparkling clean and clear water. Could you ever imagine tasting water so fresh and pure? To the mighty strength
---




---
View My Guestbook
Sign My Guestbook