Debb's Christian Share Page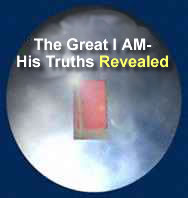 ---




---
Free Online Book-
The Great I AM- His Truths Revealed
Chapter Ten- In Pastures Green Page Twenty Seven
---
---
Looking through the information, I thought, "how am I ever going to be able to achieve this?" I was so thankful, that I have God in my life. Not the forgery, that I believed in, when I was involved in the New Age, but the real thing. I have come to learn the great difference, between eating the fruit that grows on the tree of knowledge and the fruit, from the tree of life, contained in Jesus.
I knew, that Jesus was already leading me, in the right direction. It's been, about five or six weeks, since I have been depressed. My whole attitude has changed, thanks to God. I knew my next step, was to not blame my children any more, for their behavior and instead, accept that it has come from their father and my, upbringing of our children. Without God in our lives, there really wouldn't be hope for us. I couldn't change my own behavior, as easily without Gods help, It is hard in God, without God, it would be impossible.
God has shown me, that I looked at my children, with all the effects from our incorrect parenting habits, placed on them and blamed them, for the way they acted and behaved. When I accepted the truth, Instead of feeling anger and at times an anger at them, because of their behavior, I felt love. I feel, that this is a break through, for my children and me. I know, that changes won't happen over night, but they will and are happening, one step at a time. A scripture that comes to mind, right now is in1.Peter 4:8 above everything, love one another earnestly, because love covers over many sins. What a great verse, a verse of such hope, in uniting family relationships and more.
23 psalm. The Lord is my shepherd; I shall not want. He maketh me to lie down in green pastures: he leadeth me beside the still waters. He restoreth my soul for his namesake. Yea, though I walk through the valley of the shadow of death, I will fear no evil: for thou art with me; thy rod and thy staff they comfort me. Thou preparest a table before me in the presence of mine enemies: thou anointest my head with oil; my cup runneth over. Surely, goodness and mercy shall follow me all the days of my life: and I will dwell in the house of the Lord forever.
When I became a Christian, nearly two years ago. I felt God say to me one day, as I was reading the bible, that he was now leading me out of exile and that he would bring me to his promised land, as he did for his people in biblical times, with Moses. At that time, I saw a huge mountain ahead of me, one I knew I would have to climb. Not only to get to God's Promised Land, but to even see it. This mountain was so huge and jagged, I didn't know how I could ever climb it. It seemed impenetrable. As the end of this year was drawing near, I have felt like, by the end of the year I would be on top of that mountain.
This morning, I was sitting down and relaxing. Christmas had been and gone two days ago. I saw this vision of me standing on the top of this huge mountain, looking down to the valley, of beautiful green pastures below. I was recapping over the past couple of years,
---




---
View My Guestbook
Sign My Guestbook
Copyright © 2001 DEBB'S Christian Share - Page Book- /The Great I AM- His Truth's Revealed. Entire contents of web site and E- Book including written contents Book Title and Graphics
All rights reserved

Alive in Jesus
Welcome to Debb's
message board
NEW DOWNLOAD
Printer Friendly
Version of Book
Visitors
Since 18th May 2001