Debb's Christian Share Page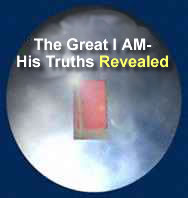 ---




---
Free Online Book-
The Great I AM- His Truths Revealed
Chapter Ten- In Pastures Green Page Twenty Eight
---
---
seeing all, of what God has done for me and feeling very thankful. I thought WOW! I'm finally at the top. This New Year ahead, God would help bring me down and the year after, I would be in those green pastures. I realized that the climb down, could be even harder than the climb up. However, I had a focus now, I could see the Promised Land to encourage me on.
All of a sudden, this small voice came up out of no where and said, "What would you say, if I told you, that you were already in the pasture? You have already climbed down the mountain." "The choice is yours. You can spend this New Year trying to climb down this mountain again, or you can walk in the valley with me." I didn't know which voice, was from God and which wasn't. I could easily relate to being on the mountaintop. It was so logical, but I couldn't ignore this other voice. If I chose to believe, that I had climbed down the mountain and was already in the valley, I could be just fooling my self. At this point, I wished I had known God even better, than I did, because I couldn't decide which voice was God's. In the end, I decided to get advise from my friend. She also agreed that the first choice, of me being on the mountaintop, fitted in with my life, over the past couple of years and was the most logical. When I told her what the other voice said, she said, that she knew instantly, that it was from God. You take it back to the word of God and it fits. Therefore, here I am in the 'Promised Land' with God, by faith. I chose to believe, that I have already climbed down that mountain and that Jesus has led me to Green Pastures.
I am very thankful for this, for many of reasons: - The first being that Jesus has brought me to the point ,to have that faith. It has taken along time. Another, is that I climbed down that mountain already. God has shown me that with Jesus by your side, everything is possible. When I first saw that mountain, a couple of years ago, it seemed so huge and the terrain seemed impossible to climb. I didn't think, I would ever get to the top. The last, but not least reason, is that I am in the pastures, the mountain is behind me. I have climbed that mountain. I can do it. I know, that when more mountains come my way, God, will make the climb with me and get me over them again, to the next valley, but for now, all I see are green pastures ahead and I'm walking in them, all the way to the still waters.
I would like to add some closing words, in this first book, that I feel God has asked me to write.
I look back now on my life and for the first Thirty Six years, before I came to God, I realize, that I felt, like alot of people do, that I was in no need of God. I used other things, to fulfill those needs.
---




---
View My Guestbook
Sign My Guestbook
Copyright © 2001 DEBB'S Christian Share - Page Book- /The Great I AM- His Truth's Revealed. Entire contents of web site and E- Book including written contents Book Title and Graphics
All rights reserved

Alive in Jesus
Welcome to Debb's
message board
NEW DOWNLOAD
Printer Friendly
Version of Book
Visitors
Since 18th May 2001