Debb's Christian Share Page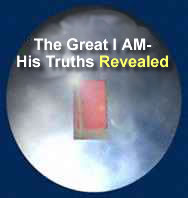 ---




---
Free Online Book-
The Great I AM- His Truths Revealed
INTRODUCTION
---
---
Several months ago, I felt God had told me to write a book. At the time I said to God "But Lord, I wouldn't have a clue how to write a book and spelling and grammar are just not my forte (so to speak)". But God was persistent and so I began to write a book.
As I said on the previous page, God has revealed a lot of His TRUTHS to me about who He is. He has been patient to show me the difference between the God I have come to know through Jesus and the One I believed was God in the New Age Philosophy. I hope you will come to see, as I did, that this Great God, found only through JESUS, is an AWESOME GOD and only does AWESOME things.
Jesus' prayer for his followers.
John 17 These words spake Jesus, and lifted his eyes to heaven, and said, Father, the hour is come; glorify thy Son, that thy Son also may glorify thee: As thou hast given him power over all flesh, that he should give eternal life to as many as thou hast given him.
And this is life eternal, that they might know thee the only true God, and Jesus Christ, whom thou hast sent. I have manifested thy name unto the men which thou gavest me out of the world: thine they were, and thou gavest them me; and they have kept thy word.
I pray for them: I pray not for the world, but for them which thou hast given me; for they are thine. Sanctify them through thy truth: thy word is truth. (kjv)
---




---
View My Guestbook
Sign My Guestbook