Debb's Christian Share Page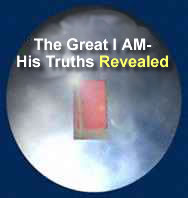 ---
Free Online Book-
The Great I AM- His Truths Revealed
Chapter Four- My Return from Exile Page Eight.a.
---
---
It brings me to tears every time I think of what these people have done for me. Such acts of unselfishness can only be found in God. I had never known this type of giving, a giving without a price tag, or expectation whatsoever involved. For the first time, I didn't have to live up to any expectations from these people. I myself even tried to warn them about what I was like. Most people I knew gave up on me in the end. I didn't blame them for it. I blamed myself, I knew what I was like. But, they could see where I was at and loved me all the more and they new God loved me.
They didn't even need my thank you, which became a plural over and over again. This type of giving should never be abused, but if you do, you can't abuse it for long, as I found out and it breaks my heart that I ever abused it at all, because it was the most purest thing anyone has ever done for me. This giving taught me to be thankful for everyone that had ever given to me in my life, even when there was a price involved. The fact that they had given at all was a beautiful thing, something I should have been thankful for but wasn't always thankful for afterwards.
My lack of self worth that often led to Pride, often got in the way. I learned not only the importance of the ways in which we should give in God, but also the ways in which we should receive. This type of giving brought to light my own selfishness, within me. This was the first of many of God's attributes I have learned and it was God that they wanted me to thank. God showed me that Jesus is a Forgiving, a Gracious, and a heartfelt God who loves us all, more than we could ever imagine. He is a God who cares, really cares with no condemnation. He is a God you can put your hope, trust and faith in.
---




---
View My Guestbook
Sign My Guestbook
Copyright © 2001 DEBB'S Christian Share - Page Book- /The Great I AM- His Truth's Revealed. Entire contents of web site and E- Book including written contents Book Title and Graphics
All rights reserved

Alive in Jesus
Welcome to Debb's
message board
NEW DOWNLOAD
Printer Friendly
Version of Book
Visitors
Since 18th May 2001