Debb's Christian Share Page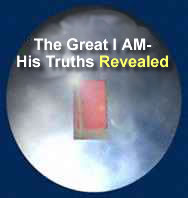 ---
Free Online Book-
The Great I AM- His Truths Revealed
Chapter Four- My Return from Exile Page Ten
---
---
I was really amazed by this as God brought the Bible to life for me that night. By showing me this, he made me know that the Bible was real and that the people in it, really did live once. I got home, went to bed, and read the first three books of the Bible with such an excitement, because I knew, really knew inside me that God is real and so is everything in the Bible.
God was really making his presence felt in my home. The children and I would sit down to dinner and we would save the chair at the end of the table for Jesus to sit in. His presence was just so close. I made the mistake of telling my sister one- day that with God in my life, at times it didn't matter, that I didn't have a partner because it felt as if, Jesus was my husband. I new I could rely on him and he was always there. I could sit up at night after the children had gone to bed and not feel so terribly lonely any more, because I had him to talk to. My sister was worried and thought I was getting too carried away in a religion and then my whole family became concerned. I couldn't make them see that I was okay, so I decided not to try and defend myself. I thought, eventually they would see for themselves, that God was good for me and that I was not getting carried away in another crazy religion. I knew I had found the truth, or the truth had found me.
My financial situation was still a great concern. I knew I had to move house I could not afford to keep paying $200.00 a week in rent. I was also paying nearly $700.00 a month for the car payment. When my husband and I separated, we had agreed that I would use the car and that he would help me get a loan for a cheaper car to pay off. He decided afterwards that he no longer wanted to do this and I was unable to obtain a loan on my own. I didn't earn enough with five children as they would not take the maintenance my husband was paying each month into account, so I knew I would have to somehow save up and one day buy a cheap car. So, until I gave him the car back, I had the car payments to keep up. I talked it over with my friend and I decided to apply for a government house in Berwick, so I could be near the church. I was successful with my application for a priority 4-bedroom house and was told, there would be a three to six months-waiting period. In the meantime, I tried to find private rental accommodation.
My eldest son who was 16 years old then, was living with his father in Blackburn. I started having doubts about moving to Berwick and wondered if I should move closer to him. I didn't know which way to go because I liked the church, but I also felt I should be there for my eldest son. I started praying about it. Not long after this, he and his father had a falling out and our son moved out. He rang me very upset. He did not want to move in with me, because he was going to school over there and he had a steady girlfriend. My friends ended up taking him in, as they live over that way and after praying to God about it, I knew that I had to reapply, for a house in the Blackburn area, instead of Berwick.
---




---
View My Guestbook
Sign My Guestbook
Copyright © 2001 DEBB'S Christian Share - Page Book- /The Great I AM- His Truth's Revealed. Entire contents of web site and E- Book including written contents Book Title and Graphics
All rights reserved

Alive in Jesus
Welcome to Debb's
message board
NEW DOWNLOAD
Printer Friendly
Version of Book
Visitors
Since 18th May 2001