Debb's Christian Share Page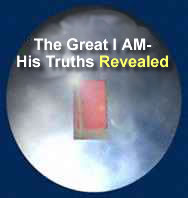 ---




---
Free Online Book-
The Great I AM- His Truths Revealed
Chapter Four- My Return from Exile Page Eleven
---
---
I had to give my speech and I was so nervous. There were about 600 people there that day, my whole body was shaking. When I read out the part about finally throwing away the crystal ball everyone clapped and cheered. I received a tape of the service. I play that tape now and again, so I will never forget all that God has done for me.
My friend Lisa put on an afternoon tea at her house, for me afterwards. My mum came up to me and said, she was proud of me. She said, at first she was worried that I had joined some sort of cult, but not any more. She said, "Debbie you have made some really nice friends keep going with God he is good for you."
It took three months for a house to come up for us and in the meantime my friends ended taking us all in. I was so grateful. Living with them helped to pick me up, as I had to put in an effort. I took each day as it came. I still felt depressed at times and I would go through times of falling in and out of my faith in God, but with their constant presence, I couldn't let myself give up. It was the best thing for me and I really don't know whether, I would be where I am today, if it wasn't for the time I spent living in their house.
When my husband left I felt so betrayed, abandoned and unwanted. He had found what he thought was the love of his life and that hurt. He didn't just leave me for someone else; he left me for what seemed, to be the person he had been waiting all his life for. I couldn't make sense out of any thing. Was our whole marriage a lie? This woman was such an opposite of me. Had he ever loved me? I felt worthless. I didn't know what was a lie and what was truth anymore.
I would go over the years in my mind. Some of them were bad but in between were some precious moments. I couldn't believe he never loved me. His new partner would ring me constantly, telling me of all the terrible things my husband had told her about me. They were so opposite to what he had told me at the time. There had been so many lies involved with our break up, that I had no trust left. I had always been a trusting person, too trusting in-fact. I trusted when I shouldn't have and if my trust were broken, I would forgive and trust again, blindly. Not any more I couldn't trust any one and at times I couldn't trust God either.
Rom 8:38-39 For I am persuaded, that neither death, nor life, nor angels, nor principalities, nor powers, nor things present, or things to come, nor height, nor depth, nor any other creature, shall be able to separate us from the love of God, which is in Christ Jesus, our Lord. (kjv)
I found it difficult to really believe that God loved me, as much as my friend said he did and I would put him to the test, time and time again. So many times, he had the right to give up on me and so many times, I tried to drive him to that point. I was not worthy of his help or his kind of loving. So many times, I took my anger out on him and blamed him because he wouldn't do what I wanted. He would never bend but, Oh! How he loved me!
---




---
View My Guestbook
Sign My Guestbook