Debb's Christian Share Page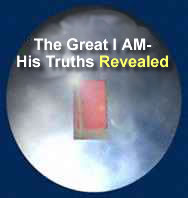 ---




---
Free Online Book-
The Great I AM- His Truths Revealed
Chapter Five- Jesus Calls Me to Follow Him Page Fourteen
---
---
Someone finally came and introduced herself and she thankfully stayed with me and chattered. She invited me to attend the cell group at her home on the following Wednesday and I excepted. I went home and rang my friend. I told her that I liked it, but that it might be too small. I knew I couldn't just go to this church and hide away in a corner somewhere un-noticed. This church was small enough for people to notice, if I didn't always turn up. This was the first church I had gone to since my first church in Berwick, where some-one had actually come up to me, in a more friendly (personalized) manner and invited me to a cell group. I really wanted to go, but I had a lot of fears. I had never been in a cell group or to church by myself. In the end, I went and I am still going now. The beautiful people there have become like family to me and the church is like a home.
When I came to God, I had a very basic knowledge of who Jesus was -I believed he was the Son of God. - I knew he had died on the cross for us, but to me back then, I thought nothing much about it. I want to share with you three of the first things God showed me to teach me who Jesus is.
1. One night during my quiet time with God, I had a Vision. I could see this person in a white robe but I couldn't see who it was because there was all this light pouring down on him. It was so bright. I couldn't get close. It looked like it could have been Jesus but I wasn't sure. Then I started concentrating on the light and as I did, I felt it and realized that the light was Gods love and it was pouring down on him and around him. I thought, Oh! How much does God the father love Jesus? I can't even describe how much, because it is indescribable. I thought he loves Jesus that much and I wondered, how much he loved me, because it seemed as if all of his love went to Jesus. It just poured on him. He was so bright just full of God's glory. (I did not know this verse then), John 15:9 As the Father hath loved me, so have I loved you : continue ye in my love.
1. The next time I saw Jesus again, he showed me, how the love of God the father, that poured on him, flowed through Jesus and then he let it flow on to us. I now really understood how Jesus and God are one, and that no one can come to the Father accept through the Son.
---




---
View My Guestbook
Sign My Guestbook
Copyright © 2001 DEBB'S Christian Share - Page Book- /The Great I AM- His Truth's Revealed. Entire contents of web site and E- Book including written contents Book Title and Graphics
All rights reserved

Alive in Jesus
Welcome to Debb's
message board
NEW DOWNLOAD
Printer Friendly
Version of Book
Visitors
Since 18th May 2001