Debb's Christian Share Page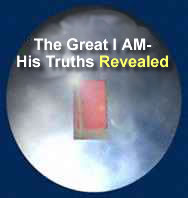 ---




---
Free Online Book-
The Great I AM- His Truths Revealed
Chapter Eight- Jesus Breaks the Chains of Bondage- One Link at a Time Page Twenty One.a.
---
---
That night, some friends and I took the children to see a Christian play. There was a scene in the play, which really spoke to me. In the scene, Satan had tricked a man, to sign his life over to him. One of Satan's helpers, was about to take his life, when Jesus appeared. Satan became angry and he was shouting, "No, you can't have him. This ones mine. He's all mine." Jesus didn't say, No Satan, he is mine Jesus said to Satan "he has the freedom to choose." I went home and this scene stayed on my mind. I began to realize, that I felt the same way about my ex-husband, as Satan does with people. I think of my ex-husband, as being mine. Like a belonging, he belongs to me.
I awoke the next day and I just knew that I couldn't get out of bed, until I had spent time with God. I didn't want to keep feeling this way and I knew it was wrong, to think of a person, as belonging to me in such a way.
Whilst I was praying, I had this vision of myself and I had handcuffed, my ex- husband to me. I then saw Jesus and he was holding the key to the handcuffs. He said, "let him go, set him free so you can both be free." I wanted to. I really wanted to be free, but I just couldn't do it. In the end, I asked Jesus to do it for me, and he did. He then walked off with his arm around my ex-husband. I wanted to call him back and to put the handcuffs back on, but I heard God say "No, set him free you need to be free." I didn't call him back. I was crying, I looked around and all I could see was blackness. Where there was once hope, there was now none. I realized, that in this whole time, I had never really put my hope in God, like I thought I had. It had been placed in my own wants and desires, in wanting my husband back. I then saw Jesus standing in front of me. He said, "Debbie, I am your way, follow me." I clung to him for dear life. He was all there was left. Every thing else had turned to black. I realized once more, that Jesus really is the only way for me. There is no other way. I felt such a great sense of relief and freedom. I was now free to be my own person, in God.
I was no longer forcibly, dragging my ex-husband around with me. (Even though, he wasn't really handcuffed to me.) He might as well have been. I didn't realize, the weight that this burden had been on me, until Jesus finally set me free and it was Great. At these times, when Jesus is just so close, you know he is the way. You know he is the Truth and you know he is the light. At these times, you would follow Jesus anywhere, thankfully and with so much hope.
Since becoming a Christian, I have always hated the word "CHOICE." This word, was not even apart of my vocabulary, before I became a Christian. I made decisions, not choices. Decisions, didn't seem to have the same consequences attached. If I made a wrong decision, I could fix it, by making the right decision the next time. Who cared, about the consequences? We learned by our mistakes. In my New Age beliefs, it didn't matter so much, that we got it wrong, because
---




---
View My Guestbook
Sign My Guestbook
Copyright © 2001 DEBB'S Christian Share - Page Book- /The Great I AM- His Truth's Revealed. Entire contents of web site and E- Book including written contents Book Title and Graphics
All rights reserved

Alive in Jesus
Welcome to Debb's
message board
NEW DOWNLOAD
Printer Friendly
Version of Book
Visitors
Since 18th May 2001