Debb's Christian Share Page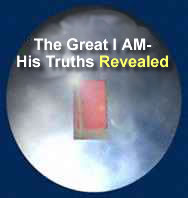 ---
Free Online Book-
The Great I AM- His Truths Revealed
Chapter Two- With Eyes that See Page Six
---
---
Can you believe it? God's angels rejoicing over you or me repenting? If you find that hard to believe, don't worry because so did I, but it's the truth. There is no sin in God. He will not lie.
Exodus 34:14, "For thou shalt worship no other god: for the Lord, whose name is Jealous, is a jealous God:" (kjv)
The next day, believe it or not, I had a previously arranged appointment with a tarot card reader. After the previous night, I didn't want to go there and I had a real struggle with myself. In the end I went. When I got there she told me nothing, she just couldn't read the cards properly. I didn't even want to be there and I had no faith in her. I paid $30.00 for nothing and walked out of there with a knowledge that I could never return.
I felt so much guilt and shame. I begged God to forgive me, all the way home. I didn't know what to do and was so worried about my future. Last year was one of the worst years of my life with my marriage breakup. As you know, all I could think was, "Get me to January so I can leave the year behind", and now that I was in January I was too scared to move, to do anything. I didn't know what direction to take with any part of my life, as I had closed so many doors and was too scared to open any new ones.
I felt that I was in limbo and didn't want to repeat the pain of the previous year, or take it into this year. So I just said, "God, please help me. I just don't know what to do any more about anything. I don't know who you are, but if you really do love me like my friend said, then please show me what to do. I will put every bit of trust and faith I have in you. That's all I have to give you, but please help me with my career, because I don't know what to do", my financial situation was way past desperate moving onto critical, "and please God, somehow reunite my husband and I and look after my eldest son Billy."
I was so scared, then, of God changing me into a Christian, that I said, "Please God, I don't want to talk like a Christian and I don't want to act like one. Just fix my problems. I'm going to leave all this with you, God, and trust you completely." I told my friend about it and she laughed and said it sounded more like a business deal. She said, that it was okay because she knew God would deal with it in his way.
This has been so hard for me to write. God has changed me so much, that when I read my diary and saw this in there, I didn't want to include it. I didn't want anyone to know that I was ever so desperate. But the truth is that I was. In- fact, I can't even recount the amount of times I tried to bend God to do my will and not his. I can't recount the amount of times I pleaded with God to bend for me, then crying so hard because he wouldn't. Yet, at the same time I would thank him for not bending. I would thank him because he is a Holy God and wont bend, no matter what. He is Righteous all the way. God never changes. He is the "Great I AM", the Alpha and the Omega, the Beginning and the End. He is the only constant there is in this ever- changing world we live in.
---




---
View My Guestbook
Sign My Guestbook