Debb's Christian Share Page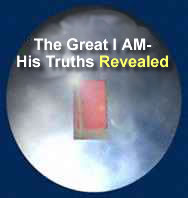 ---




---
Free Online Book-
The Great I AM- His Truths Revealed
Chapter Five- Jesus Calls Me to Follow Him Page Twelve.b.
---
---
How God makes me feel
-Worthwhile
-Fulfilled-no more empty hole its full because his spirit is in me.
-I know God the Father Son and Holy Spirit, PERSONALLY
-I love to read the Bible and can understand it
-I see Jesus before me
-I have faith and trust in God for everything
-I don't worry
-I feel a peace
I love God and look to him for everything in prayer
"Plan"
-Spend structured, quality time with God everyday.
-Mix with other Christians
-Remember my most vulnerable times i.e. (My husband and finances)
-Come before God, and confess my fears and worries and then hand them over to him.
-Spend quality time reading Gods Word- Praising, worship etc. Everyday
-Ask God to teach me to be obedient, no matter how I feel
NOTE: Important to God: - Obedience and Faith.
-Failure - leads to emptiness, weakness and loss, being led by Satan and my own desires to total destruction.
-Success- leads to Strength love happiness and fulfillment.
"THE CONSEQUENCES ARE NOT WORTH IT!"
---




---
View My Guestbook
Sign My Guestbook