Debb's Christian Share Page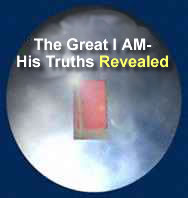 ---




---
Free Online Book-
The Great I AM- His Truths Revealed
Chapter Seven- Jesus Lover of my Soul- Heals my Childhood Wounds Page Nineteen
---
---
I was quite happy with just my mother's love before this. After this, I no longer wanted the love I could have. I wanted only, the love that I could not have. I wanted my fathers love and I searched for it in all the wrong places. He never did love me, but when I was in my early thirties I finally accepted it and let go.
Now I will tell you what God showed me this night. He showed me what, a fathers love was. At the time I just thought Oh! So that's, what a fathers love is. He told me that he was my real father. I did not have a father that I could love and honor, so I would be able to honor him and obey his commandment which states Honor thy father and thy mother: that thy days may be long upon the land which the LORD thy God giveth thee.
Over the next couple of days, the full extent of what God had just done, started to hit me. I realized that I had wanted that fatherly- love, all my life. I never even knew what it felt like, till he showed me what it was. In God, I now had a father. It felt really strange and I told God, that I didn't even know how to love a father, and could he help me to learn.
A couple of nights later, I just prayed to God. I didn't really have any thing to say I just wanted to be with my father. See what it felt like. It was so nice to stand there before God, as my father because I wanted, needed, to spend time with him and know that I could. To come to God as a father, when you've never really had one is really special. God made me feel, like I had never been without a father's love. I didn't have just any father; I now had the best. When I was near my father in this way, I felt different. He made me realize that I really did come from him. He created me in his likeness. How great it is to have God as my Father.
I don't even need a reason to see him any more. I can now just say. Hi Dad just dropped in to say hello and that I love you and have God love and cherish me back. How great is that? If it weren't for God, I would have gone through my whole life and never known or cared about what a father's love was. Over the next couple of days I just felt different. More balanced. I was now loved by a mother and a father and it brought a balance deep inside me.
It made me feel really sad that there are so many broken families, mine included and I realized, just how much children need both parents, or to have a great love of God, to be able to grow up with a balance within.
---




---
View My Guestbook
Sign My Guestbook