Debb's Christian Share Page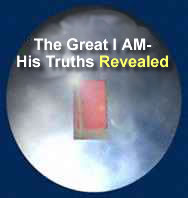 ---




---
Free Online Book-
The Great I AM- His Truths Revealed
Chapter Seven- Jesus Lover of my Soul- Heals my Childhood Wounds Page Twenty
---
---
The next thing that God did for me is really personal. I didn't know whether to include it and I really prayed and battled over this, but all I kept coming up with, was that God has healed me so well: Did I have the right not to include it?
I wanted others to know, what a Great and Loving God we have and that even those who have been through the same as I, can be healed fully and grow to Love God as a beautiful and loving Father a Father like none other, they could ever know.
When I think of God my father the only verse that comes to mind is Galations 5:22-23 But the fruit of the Spirit is love, joy, peace, long suffering, gentleness, goodness, faith, Meekness, temperance: against such there is no law. (kjv) This is the way my Father loves me. He is the source of all these things and more and he is found only through Jesus.
I had written in an earlier chapter how God had shown me, that he had heard all my prayers and remembered all of them and that nothing went unnoticed. Well, now I would like to share with you what those prayers were about.
---




---
View My Guestbook
Sign My Guestbook