Debb's Christian Share Page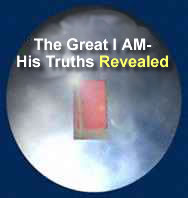 ---




---
Free Online Book-
The Great I AM- His Truths Revealed
Chapter Eight- Jesus Breaks the Chains of Bondage- One Link at a Time Page Twenty Three.a.
---
---
3. It didn't sit right. The Holy Spirit, who lives in us, knows Gods spirit and reveals his truths. John 14:17 He is the spirit, who reveals the truth about God. The world cannot receive him, because it cannot see him, or know him. But you know him, because he remains with you and is in you.
The next day, I didn't feel all that great. Yet at the same time, I also knew, that there was no reason for me to be feeling the way I was. I knew Jesus had set me free. I was moping around the house, and every now and then, I would notice something in a room that I liked and think, that's apart of who I am and like it. Then I would go back to my moping around.
I was feeling a discontentment and I had that feeling again, that the real me was inside there somewhere. I put some worship music on and began worshiping God. I was looking to God and could feel his holy presence, when all of a sudden, God showed me myself, in him. I couldn't believe it. He wasn't only in me, I was in him. I felt this new me and I was so full of the love of God. This 'me' in God, really loved God and was so confident in her walk for God. I loved this me.
Each time I took my focus of God, I could not feel the 'me' in God and each time I turned my focus back, I would feel the love of God inside me again, as this new me. It was as if, this was the 'me' that God created, undamaged in any way. Just, so completely for God. It felt good. A comfortable feeling, it felt right. This me in God, loved people with Gods love, it felt funny, not to have one complaint about me at all. In-fact, I didn't matter. What mattered, was who God is and how great he is. This 'me' in God, can walk the path God created for me to walk, because this 'me' could keep her focus on God and what he can do. This new me could also allow Jesus to work through her.
During the day, I kept losing my focus on God and putting it back on me. It is amazing how much of my day, is spent with the focus on me and not on God. I know God has taught me this before and that he is now teaching me this again, in a slightly different way and that he will teach me again if he needs to. However, I hope he doesn't, because I really love, the me that God created, who lives in him and always has.
I am so thankful, that Jesus helped me let go of the false hope, I was hanging onto for all those years. I had such a fear of letting go. At one point, I did not think I could go on living, if I let go. Later, I didn't think I could have any quality in my life, without my husband in it. I thought, the only way, I could be really fulfilled inside me, was if I had my husband back. I thought, I loved God first, but I needed my husband too. It is so great to learn, that I was very wrong and that the only real fulfillment comes, from loving God the Father, Son and Holy Spirit and in the freedom, I have received in Jesus. Thanks to Gods great love for us.
Once, I didn't think I would ever be able like myself, but this new me I have found in God, I don't just like, I love, really love.
---




---
View My Guestbook
Sign My Guestbook
Copyright © 2001 DEBB'S Christian Share - Page Book- /The Great I AM- His Truth's Revealed. Entire contents of web site and E- Book including written contents Book Title and Graphics
All rights reserved

Alive in Jesus
Welcome to Debb's
message board
NEW DOWNLOAD
Printer Friendly
Version of Book
Visitors
Since 18th May 2001