Debb's Christian Share Page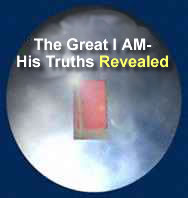 ---




---
Free Online Book-
The Great I AM- His Truths Revealed
Chapter Eight- Jesus Breaks the Chains of Bondage- One Link at a Time Page Twenty Four.a.
---
---
The next day I awoke and God was not in my heart any more and I couldn't stand it. I went to bed that night and just talked to God about it and in the end, I decided that may-be; it was time for me to go on anti-depressant's. I knew, that if it weren't for my moods, I would be living in the freedom, that Jesus had already given me. I have never felt good about anti-depressant's. I felt, that for me, they would be just a band aid, a type of cover up and I didn't want that. I wanted a cure, but I was so sick of going up and down like a yo-yo.
I awoke the next day and rang my doctor to make an appointment. I decided to ring my friend and talk it over with her. I felt uneasy about it. I knew Jesus had set me free and I didn't want to make this decision lightly, because if I went on anti-depressant's, I knew, that I would be allowing these tablets to have a hold on me and I didn't really want that, but I was desperate. My friend suggested, I go to a health food shop and speak to someone there. She told me about a herbal alternative, that is not addictive. I got off the phone and I thought, what I wanted most right now, was a quick fix it and none of these could do that. I would have to wait at least a week or two for either of these to work, so I might as well try the alternative first.
I cancelled the doctor's appointment and went to the health food shop. I spoke to a woman there and I was glad I went. I could not have spoken to a more caring person. I bought some herbal tablets for depression and before I left, she asked me what my diet was like and I said terrible. She asked me what my exercise was like and I said even worse. She said, "force yourself to have breakfast every morning. Even if you don't feel like it, force yourself any way and you just may be surprised at the results". I went in clutching a straw and I walked out clutching, what I felt was the first real hope, I had felt in a while. It took me all my might, not to just burst into tears, in the shop. I felt God saying, "Debbie, you concentrate on these two things and I will do the rest."
When I got home, I sat down and ate a bowl of breakfast cereal, which was the first time I had eaten breakfast, since I was in Fiji and that was in June and it was now November. During the day, God showed me how my depression had become a habit. Their was no longer any need, for the habit to continue and that it was now time, for it to be broken and all I had to do was concentrate on eating breakfast and taking a ten minute walk everyday and he would do the rest. As the day went on, all these great ideas kept coming into my
---




---
View My Guestbook
Sign My Guestbook
Copyright © 2001 DEBB'S Christian Share - Page Book- /The Great I AM- His Truth's Revealed. Entire contents of web site and E- Book including written contents Book Title and Graphics
All rights reserved

Alive in Jesus
Welcome to Debb's
message board
NEW DOWNLOAD
Printer Friendly
Version of Book
Visitors
Since 18th May 2001