Debb's Christian Share Page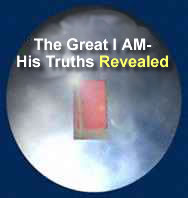 ---




---
Free Online Book-
The Great I AM- His Truths Revealed
Chapter Eight- Jesus Breaks the Chains of Bondage- One Link at a Time Page Twenty Five
---
---
head, about changes, God wanted to see take place in our family.
When the kids came home from school, I told them that we were having a family meeting. "Oh no" they said, "not a family meeting". "I'm afraid so" I said. My children have come to learn that a family meeting meant changes of some sort and even though they say 'oh no' they enjoy family meetings and get quite excited about them. They have come to know that we only have family meetings (spoken with a certain tone of my voice) when God has shown me something new and although it usually means new boundaries and rules for them, they have liked them better than the existing rules. I told them that I would no longer, be grounding them as a punishment all the time and that there would be no more loss, of pocket money for not doing their chores, because they would just do them. I told them, how God had shown me a whole different way for us, as a family to start living. The talk took about an hour all up and then they went out to play.
The next day when my children awoke, they were greeted with a lavish breakfast spread out before them. It consisted of cereal, toast, jam, vegemite, fresh fruit and a pot of tea. All their eyes popped wide open and they ran to the table. "Oh mum this is so great I love how God is changing you" was my twelve-year-old's son's reply. They weren't very impressed with the tea so I said, "every second day we would have herbal tea", which they like and so then it was okay. Before this, my children would usually get a bowl of cereal and a drink of cordial for breakfast, so to them this was a banquet.
I decided to walk my children to school for my ten-minute walk and they loved it. I came back home feeling great. What a great start to the day! In one day, my whole attitude had changed. So many great ideas were coming into my head about my children. When I came down in depression my children came down with me, normally it would take me a couple of weeks to pick up a routine again. Not this time God helped me do it virtually over night.
Three days later I was still going well. It was Sunday night and I decided to go to bed early to spend some quiet time with God. It was then that I realized that I had not done this for over a month and again of how much I had missed God. I also realized that my letting go of my personal relationship with God is probably what brought me down in the first place.
The next day we all slept in. I then had a choice to make. Do I rush around trying to get the kids to school and forgo a decent breakfast and end up in a terrible mood, which is what I would normally do, or do I give them a day off, sit down, and eat a good breakfast with them. I chose the later. At the end of the day I new I had failed but instead of coming down hard on myself, all I could think was "Tomorrows another day". Usually this one event would have been enough to bring me on my downward spiral, but not today.
---




---
View My Guestbook
Sign My Guestbook