Debb's Christian Share Page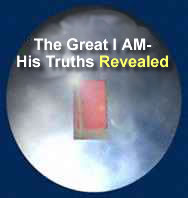 ---
Free Online Book-
The Great I AM- His Truths Revealed
Chapter Two- With Eyes that See Page Four.a.
---
---
Jesus said in Matt 11:28-30, "Come to me, all ye that labour and are heavy laden, and I will give you rest. Take my yoke upon you, and learn of me; for I am meek and lowly in heart: and ye shall find rest unto your souls. For my yoke is easy, and by burden is light." (kjv)
Jesus brought this scripture to life for me that day and he has brought it back to life over and over again with all my burdens when I have given them to him. I have come to realize that you just cannot thank him enough for what he has done. All you can do is praise his Holy name.
John 16:32-33 Behold, the hour cometh, yea, is now come, that ye shall be scattered, every man to his own, and shall leave me alone: and yet I am not alone, because the Father is with me.
These things I have spoken unto you, that in me ye shall have tribulation: but be of good cheer; I have overcome the world. These things I have spoken unto you, that in me ye might have peace. In the world ye shall have tribulation: but be of good cheer; I have overcome the world."
Christians believe that this passage refers to believers, and this is true. But there is more of a meaning for me in this passage. I can also relate this passage to my pre-Christian life. I came from God. He created me. But until the time Jesus brought me back to him when I was 36 years of age, I lived in the world without him. I will show you in the following pages why I really believe that if it were not for the fact that Jesus had already conquered the world, I could not have been brought back to him.
You often hear it said that you shouldn't kick someone when they're down, but oh! How many times this happens, sometimes unintentionally and sometimes on purpose. I once really believed that the only reason I was put on the face of the earth was to be hurt. I noticed time and time again that by my being hurt or put down, someone else nearly always felt better from it.
When I became a Christian, this feeling didn't change. In fact, I remember saying to God one day, "Well, if this is why you made me, that's okay. I don't care any more, as long as I have you. If this is how I bring someone else happiness, I'll take it. It's okay."
One of the worst things about being put down is that you eventually believe it. In the end, you don't need someone else putting you down, because you do it yourself anyway. That's when you know you're really in trouble. That's when you really begin a cycle of self- destructiveness. This cycle would have to be one of the darkest cycles there are.
Self- hatred and self- loathing, are two of the darkest words I know and I can tell you now that they are two of the biggest lies that the enemy has to offer us. These would have to be Satan's biggest and strongest weapons against God and us. One of the names the Bible uses to describe Satan is "the father of lies" and he is a master at them.
For as long as I can remember, I wanted God to love me. When I was little, I used to cry out to God to help me, but he never seemed to, so in the end I thought I was just too bad and God would never love me and I grew up believing this.
To think of all the damage I have done to my life and myself because of these two lies! You know, one of the things that I really love about Gods Law is this: "A SIN IS A SIN". They are all bad. I love that in God. Some may find that hard to believe. How many times have you thought or heard someone say, "Well at least I'm not as bad as that person", or "At least I don't do that." I know I have said it and thought myself.
One of the things that really amazed me when I became a Christian was that in God's eyes we are all equal. Can you believe that? You just don't see it in the world and even amongst Christians it is not always so. There is no SIN in God. He is a righteous and holy God.
---




---
View My Guestbook
Sign My Guestbook