Debb's Christian Share Page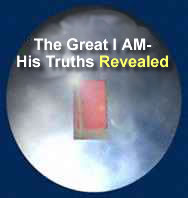 ---
Free Online Book-
The Great I AM- His Truths Revealed
Chapter Two- With Eyes that See Page Five
---
---
It took me along time to stop hating myself. It was something that was so embedded in me and, I can tell you now, if it weren't for Jesus, it would never have ceased from doing so.
I want to stop here and tell you of the ways Jesus helped me to do this. It was a long process but, as you will see, our God is an amazing God. He never bends. He is the Great I AM
The night I came to God was the darkest night of my life. My husband and I had separated eleven months earlier. This devastated me as he was the love of my life and I had known and loved him for half of it. I was in shock for the first six months and I couldn't believe that he could love someone else. It hurt being on the outside; I felt so far out that I couldn't even look in any more.
I was in so much pain and couldn't bear it. I had our five children to look after and I was doing a terrible job. By the time October came, all I could think was, "Get me to January, just get me to January. I know I will be all right." I didn't know why I would be alright. I just felt it. Something inside me somewhere just kept telling me I would be alright if I could just get myself to January.
I just wished the days away. Christmas day came and I had arranged for my husband to have the children, because I knew the best thing for me would have been to just sleep the day away, but it didn't turn out that way. At 3 p.m, I finally decided to go to my sister's house with the rest of my family for Christmas lunch. I took my children and went, but couldn't cope. I broke down and cried the whole time and couldn't even make myself stop for the children's sake. We ended up just going home and I was able to salvage the rest of the day with my children.
The night came and a new day finally dawned. All I could think was, "Its almost January, its nearly here." and was actually looking forward to New Years Eve. The three younger children had gone to bed and my then 10- year- old son, Michael, decided to sit up with me to see the New Year in. By 11p.m. I realized I couldn't sit there and see the New Year in after all, so I said to Michael, "How about we go to bed and just wake up to a brand new 'New Years' day tomorrow." He said he was tired, so he agreed. The next day, I awoke and was very happy. FINALLY January was here!
The days started going by and nothing happened. By the second week, I couldn't hang on any more. I thought, "For months now I have been hanging on, just waiting to get to January and nothing's changed." This night, 9th January 1999, I sat there looking at my life and for the first time ever, I saw no hope. I looked at my future and all I could see was black. I thought, "I WANT OUT!!!" I have always been a very strong person. I have always found hope, where there was none, but not this night. I'd had it. The children couldn't even keep me going because
---




---
View My Guestbook
Sign My Guestbook